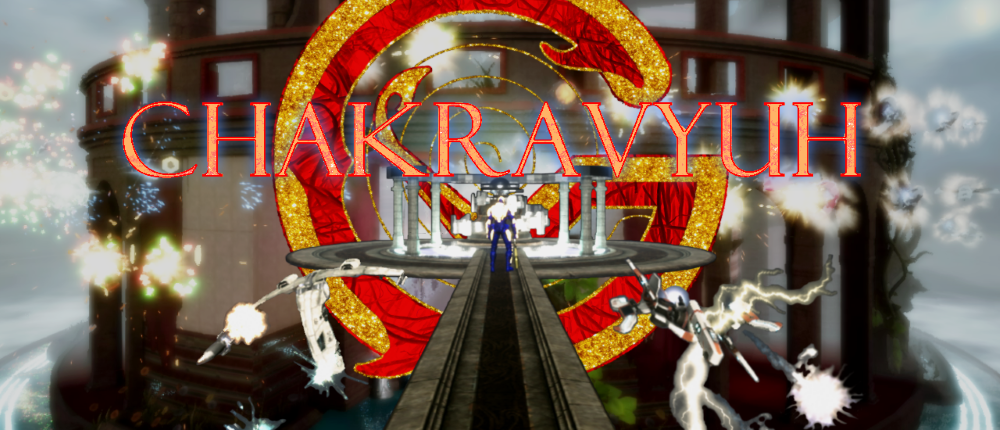 Chakravyuh
A downloadable game for Windows
Chakravyuh is Terradarc's debut indie game release developed by one person. It is a Furiously Fast- Action Shoot 'em up with some nice visuals and epic soundtracks.
About:
Fight back against waves of enemies across the planet as the face of earth's resistance against invading aliens. Equipped with an arsenal of vehicles, weapons and support equipment, survive as long as possible to set your most insane score in Survival Mode.
Features:

Switch between Vehicles and Hero mode while battling hoards of enemies.
Level 1 - Survival Mode with multiple difficulty levels and optional auto-difficulty progress. Survive long enough to unlock "Godlike" difficulty for extreme Chaos.
Score multiplier based upon the difficulty level to rack up some Insane Scores and increased Gold drops.
Unlock and Upgrade System.
Various consumables/pick-ups along with the possibility to pick-up locked items and temporary upgrades.
An Epic collection of handpicked soundtracks to fuel the excitement.
High quality visuals configurable under Options menu to support a wide range of systems.
Powered by Epic's Unreal Engine 4.
Controls : Primarily, WASD keys for movement and Arrow keys to shoot. More info available under In-game Menu -> Options -> Help.
Recommended System Requirements:
CPU SPEED: 2.5+ GHz Quad core
RAM: 4 GB
OS: Windows 8.1 or Newer
VIDEO CARD: NVIDIA GTX 660 or better
FREE DISK SPACE: 500 MB
Note: Alpha Release - The Game was originally being developed for mobile devices but being a self-taught indie, had some challenges to support multiple device configurations . Its under active development and will receive updates, bug fixes and new content periodically. The future of the game can also be shaped based on community review and feedback.
Attribution: Certain images/artwork used in the game have been designed by :
- www.freepik.com

Complete attribution list and details are available in game credits.
Download
Click download now to get access to the following files:
Chakravyuh Setup [32-bit]
381 MB
Comments
Log in with itch.io to leave a comment.
I finally got around to trying this out and it's super fun! I can't wait for the next update.
Since this is free, why can't I 'claim' this? I have a big backlog, so don't know when I can play this, but it looks right up my alley. Also, the main problem, I don't have any space left, despite it being a tiny game size wise-no space at all
This was meant to be claimable but looks like i goofed up.. my bad.. Its been updated.. Thanks for sharing.. :)
Hi, I have a twitter where I list free games, so I made a post with your game, if you want me to add a link to your twitter, let me know ;)
There isn't an official twitter id yet.. will work on building one..
Thanks for sharing... :)
I loved the title theme with all that sexy trumpet,saxophone and guitar! I would love an mp3 of that
Thanks for checking out my first indie game.
I believe this is the track you are referring to: "Against The Odds".
Yeah.. Kinda had a similar feeling midway through the development until the addition of the hero character jumping out of the ship, switching to different ships and various additional support pickups were added.
Work is still on for a few more levels, bosses, weapons & game modes. Also spending quite a bit of time to polish the visuals and interface designs. Will factor in your feedback. Hopefully at the end of it all, its able to deliver a gameplay experience like none other. :)
In mean time, please do share in case you have any other feedback or suggestions. Thanks.
NON-STOP ACTION! | Chakravyuh
I played this game... and i LOVED IT! its really really good and left some feedback in the video :D i cannot wait for the campaign in this and will 100% be playing this again! :) great job on creating this!
Thanks for the review! Enjoyed watching your session.
I was able to make some valuable observations and have also made a note of your feedback. Should have most of them available shortly.
On another note, at higher difficulties you will be able to make some really insane scores. ;)
Hope you continue to enjoy the game and share your feedback.
Super engaging gameplay !!!